Pumpkin Spice Peanut Butter Oatmeal
53g Carbs(8g Fiber)
6g Fat
23g Protein
Total Calories= 350
INGREDIENTS:
60g Quick-Oats ( Cook first !)
Then Add( after it cools down) :
60g Pureed Pumpkin

12g PB2

16g Whey protein

1tsp Fat-Free and Sugar-Free Cheesecake Jell-O Mix ( baking section grocery store )

1tsp Vanilla extract

1 tsp cinnamon
Turkey Bacon BLT
34g Carbs
10g Fat
14g Protein
Total Calories = 280
INGREDIENTS:
2 Slices Ezekiel Bread

3 Slices Turkey Bacon ( 30-35 cals per slice )

2 Tbsp Low Fat Mayo

Onion, Lettuce, Tomato, Etc
This recipe is very easy to critique to fit your macros. Need more protein? Add 2-4oz chicken breast. Need more carbs ? Add a side of vegetables or potato. Need more fat? Add in more turkey bacon. mayo, or cheese.
Toasted Broccoli and Cheddar Wrap
24g Carbs
2g Fat
24g Protein
Total Calories= 200
INGREDIENTS:
1 Josephs Lavash Wrap

1 Cup Broccoli

28g Fat Free Cheddar / Shredded Velveta
1. Steam broccoli or saute in pain with water.
2. Lay 1/2 of your lavash wrap down in a medium/high heat pan and add 28g shredded fat free cheddar or shredded velveta cheese. Now add your broccoli and fold the lavash long ways first and then the two ends. Flip over and toast the other side.
62g Carbs ( 16g Fiber)
12g Fat
35g Protein
Total Calories = 445
This one brings back a lot of childhood memories. I remember being driven to school everyday and stopping to McDondalds to get a McGriddle and hashbrowns, before I even knew what a calorie was. For one regular McGriddle it's 450 calories! I have recreated the recipe so you can eat two for less than 450 calories !
INGREDIENTS:
2 Thomas High Fiber English Muffins

2 Slices Fat Free Cheese ( OR 1 serving Shredded Velveta Cheese )

4 Slices Turkey Bacon

1/2 Cup Egg whites ( 4oz )

4 Tbsp Sugar Free Maple Syrup
METHOD:
1. Cook Turkey Bacon in pan sprayed with PAM.
1. Leave leftover fat from bacon in pan and cook Egg whites.
2. Toast the English Muffins
3. Place cheese, chopped turkey bacon, and cooked eggwhites on warm english muffins to melt.
4. Optional : Top with 2 tbsp sugar free syrup. ( Salty and Sweet is amazing )
Tricep Workout
Workout of the day. Cross-Cable Tricep pushdown. Notice I am slightly leaning forward. ONLY bend at the elbows. Once you are fully locked out at the elbow, think of bringing your shoulders down and back, squeezing your shoulder blades together. I do this at the third rep so watch how I squeeze my shoulder blades togther at the bottom of the movement and drive my arms back another inch or two. This fully activates the long head of the tricep.
Buffalo Chicken Stuffed Sweet Potatoes
58g Carbs
2g Fat
27g Protein
Total Calories= 350
Have a little extra time to prep and cook? Try this recipe out. This is a healthy dish you can bring to a party instead of the typical high calorie bacon stuffed potato skins.
INGREDIENTS:
10oz RAW Sweet Potato ( Reduces to 8oz when cooked)

30g Fat Free Cream Cheese

50g Non-Fat Plain Greek Yogurt

1/4 cup Chopped Cilantro

1/4 cup Diced Peppers and Onions

2oz Shredded Chicken Breast

Franks Red Hot Sauce
METHOD:
Preheat Oven to 425 and bake sweet potato for 30-40 min. OR throw Potato in microwave for 10 min( So you don't get hangry waiting 30 min)
Cut Sweet potato in half. Scoop out most of the flesh. ( Turn oven on to Broil for later step)
In a separate bowl, combine the sweet potato flesh with cream cheese, greek yogurt, cilantro, peppers and onions, shredded chicken breast, and 2-3 tbsp Franks Red Hot.
Fill Each Potato Skin with Mixture.
Put Potato back in oven and Broil for 3-5 Minutes.
Mediterranean Chicken Salad Wrap
38g Protein
29g Carbs
4g Fat
Total Calories= 288
I keep wanting to say "one of my favorite meals".....I guess I just really love food. Here's a simple and tasty recipe to make for lunch or any meal. It is a homemade Tzatziki Greek yogurt based dressing that can be combined to make a chicken salad, salad dressing, or just use it as a healthy dip. I would recommend combing the dressing with diced chicken breast to make a wrap.
INGREDIENTS:
1 Josephs Lavash Wrap

3oz Diced Chicken Breast

1./2 Cup ( 1/2 single serve container ) Plain Greek Yogurt

1/4 Cup Finely Chopped Red onion

1/4 Cup Finely Diced Cucumber

1/2 Tbsp Lemon Juice

I minced Garlic clove ( garlic powder works too)

2 tsp Dill Seasoning ( very important )
METHOD:
Whisk all ingredients together in large bowl. Add diced chicken breast. Scoop on to wrap and fold.
Can add lettuce/spinach , cherry tomatoes, and more onion if desired.
Enjoy.
Macro Friendly Crockpot Recipes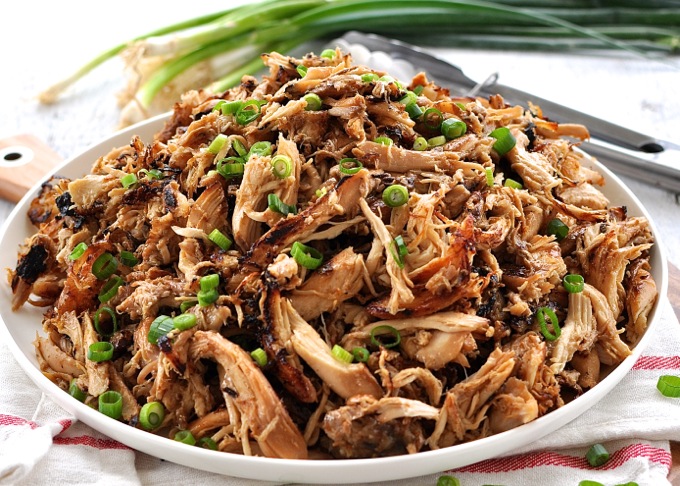 Want some new ideas to cook your chicken each week? Below are some of my favorite crockpot chicken recipes. Crockpots are a savior during a busy schedule with little prep time involved. Simply mix all of the ingredients together and let it cook for 6-8 hours. This way when you get home dinner is served! Put the leftovers in a tupperware and have this tasty meal for your lunch everyday. Text me if you want to fit any of these into your meal plan.
Mexican Chicken
Crockpot Ingredients ( mix all together ):
3-4 lb Boneless/Skinless Chicken Breast

1 Can Salsa

1 Packet Taco Seasoning

1 medium Onion, chopped

1 large Pepper, chopped

2-3 Cloves Garlic

1/2 Bottle Franks Red Hot (optional)
Add in enough water( or low sodium chicken broth/stock) to cover chicken.
Mediterranean Chicken
Crockpot Ingredients ( mix all together ):
3-4 lb Boneless/Skinless Chicken Breast

2 tsps Pepper

3 teaspoons Italian seasoning

juice of 1 medium lemon (about 3 tablespoons)

2-3 Cloves of Garlic (2-3 tbsp minced)

1 medium onion, chopped

1 cup kalamata olives

1 cup roughly roasted red peppers

2 tablespoons capers

fresh thyme or basil for garnish (optional)
Asian Chicken
Crockpot Ingredients ( mix all together ):
3-4 lb Boneless/Skinless Chicken Breast

1 medium onion , chopped

1 Bottle LOW Sodium Soy Sauce

1 Packet Stir Fry Seasoning

Fresh Ginger

2 tsp Red Chili Flakes

2 tsp Black pepper

Diced Chives

2-3 Cloves Garlic (2-3 tbsp minced)
Add in enough water( or LOW sodium chicken broth/stock) to cover chicken.
Egg, Cheese and Bacon Tortilla Wrap
20g Carbs
9g Fat
44g Protein
Total Calories= 280
INGREDIENTS:
1 Josephs Lavash Wrap

1/2 Cup ( 4oz) Egg Whites

1 Serving (28g) Velveta Shredded Cheese

1 Slice Turkey Bacon ( sliced into small pieces )

Optional: fajita veggies ( onion, pepper, mushroom, jalapenos )
METHOD:
Whisk Egg whites, cheese, turkey bacon and veggies in a bowl and cook in pan sprayed with PAM , no butter or oil needed.
Turn on oven Broiler.
DO NOT scramble eggwhites. Cook until they are almost done, but only "liquidy"on top then place under the broiler in oven for 3-5 minutes until fully cooked.
Place your egg white "pizza" on a separate plate and toast the Lavash wrap in the same pan on the stove ( medium heat). Only toast for 1 minute to get it brown, it still needs to be flexible to be able to fold. Flip over the lavash and begin to toast other side and place the eggwhite in middle of lavash. Fold the egg white in half and place in center of lavash. Then, fold the outer corners of the lavash over the egg white( think of folding a present ). Once the eggwhite is covered by the lavash, flip over lavash again and "seal the edges" for 30 seconds.
( Can add in protein source such as chicken, ground turkey, ground beef, lean steak depending on your goals)
Black Bean and Corn Taco Salad
Macros ( without chicken)
18g protein
7g Fat
43g Carbs
Total Calories = 330
I call this the " Just Shake, NO Bake " recipe. Such an easy and tasty recipe to pack for lunch when your in a rush.
INGREDIENTS:
1/2 Cup ( 120g) Canned Black Beans, drained and rinsed

1/2 Cup (120g) Corn , canned or frozen

1/2 Cupped Tomatos , Diced

2-3 Cups ( 170g) Romaine or shredded Lettuce

2-3 Tbsp Salsa Or Pico De Gallo

1 Tbsp Lime Juice

1 Serving (28g) Velveta Shredded Cheese

Optional: Cilantro , Jalapenos , Peppers, Etc.
METHOD:
Toss all ingredients in a large tupperware, cover, and shake together. Enjoy.
( Can add in protein source such as chicken, ground turkey, ground beef, lean steak depending on your goals)
Shoulder Workout
Hope you guys have enjoyed some of the recipes so far. I am excited to post more on this page and give you guys some ideas for recipes and exercises you can try. One of the biggest muscles people neglect is the rear deltoid. The shoulder is composed of a front, side, and rear head. The rear head not only makes your shoulder look more full and round, but it also helps pull your shoulders back. It is so important to perform exercises targeting the rear side of the shoulder. Shown below is a variation of a row. You can see very clearly that my shoulders are working. I chose to use kettle-bells due to the grip being much more comfortable and it is easier to tuck them into your side. With this movement, think of only pivoting at the shoulder joint. Slow and controlled, feel the burn. These pair well with straight arm band-pull-aparts too. Enjoy!
Low Carb Mushroom Risotto
25g Carbs
6g Fat
22g Protein
Total Calories = 270
INGREDIENTS:
1 bag Cauliflower Riced Medley

200g Mushrooms

1-2 Chopped Garlic Cloves

2 Servings ( 56g) Velveta Mozzarella Cheese OR Trader Joes "Lite Mozzarella Cheese"

100g Diced Onion

1-2 Stalks of Chives ( green onions)
METHOD:
Put Cauliflower Riced Medley bag In Microwave for 6 minutes
Saute Mushrooms and Onions and minced garlic in Pan on high heat with few a few tablespoons of water and COVER for 5-10 minutes. No oil or butter is needed ! Spray pan with PAM and add a few tablespoons of water ONLY.
Combine vegetables, cauliflower, and cheese into large bowl and mix. Add unsweetened almond milk or water until desired consistency.
Season with salt and pepper and top with diced chives.
( Can add in protein source such as chicken, ground turkey, ground beef, lean steak depending on your goals)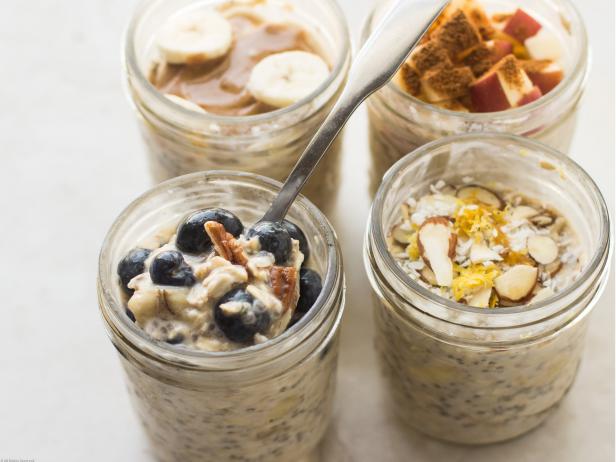 Want to save some time in the morning? Try prepping your oats the night before. Text me if you want to fit this in!
Mix all together in mason jar or glass/plastic tupperware:
1. 1/2 Cup Oats ( 1 Part oats )
2. 1/2 Cup Water ( 1 Part Water )
3. 2 Tbsp Chia Seeds
4. 75g Yogurt
5.40g Fruit Of choice
6.Optional: 15g Whey Protein ( PE Science)
Chicken N' Rice with Peanut Sauce
570 Calories
60g Protein
62g Carbs
9g Fat
One of my favorite recipes I make on a weekly basis. Very easy to make and tastes amazing. Ever had Thai Peanut Sauce? Very similar to that dish but this is a lower calorie recipe without sacrificing taste. Text me if you want to fit this into your plan!
INGREDIENTS:
8oz RAW Chicken Breast

1 Cup COOKED Jasmine Rice

4 Tbsp PB2 ( powdered peanut butter )

2 Tbsp Soy Sauce

1 Tsp Ginger

Sprinkle Red Chili Flakes

1 Packet Stevia

Sprinkle of Cilantro
METHOD:
Bake the Chicken in oven at 400 for 20-25 minutes.
Boil or Microwave Jasmine Rice
Combine and whisk the powdered peanut butter, soy sauce, ginger, chili flakes, cilantro and 1 packet stevia in a separate bowl with enough water to make a paste. Think pancake batter consistency.
Dice the chicken breast into cubes and simply mix chicken, rice, and wet ingredients all into the same bowl.
Mayo Free Potato Salad
I love potato salad, but it's always higher in fat from the mayonnaise dressing. This is a nice simple, low fat alternative, which can be made with sweet or white potato. It can be served as a side dish or a main meal by adding ground beef or meat and additional veggies.
INGREDIENTS:
Total 0% greek yogurt

Fat free cottage cheese

Mustard (I like the wholegrain mustard)

Salt and pepper

Potatoes

Red/White onions

Parsley/ Dill Seasoning
8oz Potato = 220 cals
1 cup fat free cottage cheese = 140 cals
1/2 cup greek yogurt= 50 cals
Totals= 410 cals
METHOD:
Boil the potatoes until just tender, drain and pop aside to cool.
Combine the yogurt, cottage cheese, mustard, spring onion, salt and pepper, dill and parsley, or any other ingredients you fancy throwing in!
Simply mix the potatoes with the mixture and serve, either warm or cold.
Creamy Baked Oats
Everyone loves oats…they often come top of the "favorite carbs" list, so why not try them baked in the oven when you have a little more time. There are lots of variations again for this meal, different fruits, adding dark chocolate or nuts or cocoa powder, but here is the recipe I like.
INGREDIENTS:
Oats

Cinnamon

Blueberries

Apple

Almond milk/ milk – Optional
METHOD:
Put the oats in an oven dish and combine with milk, water, almond milk, which ever you prefer and fits your macros for the meal. Obviously using milk will make it a little creamier if you have free reign!
Stir through some blueberries or berries of your choice and some very finely sliced apple. Add cinnamon and a little sweetener if you want to.
On the top layer some more very thinly sliced apple and blueberries and pop it in the oven for about 30mins
This will bake through and the fruit on top will caramelize slightly which is extra tasty!
60g oats –225cals
50g apple – 44kcals
50g blueberries - 28kcals
TOTAL = 312 cals
Peanut Butter Snickerdoodle Oatmeal
Want a quick and easy oatmeal recipe that tastes amazing? Check this one out and let me know if you want to fit it into your plan!
1.) 50g Oats
2.) 40g Blueberries or Strawberries
3.)75g yogurt
4.) 12g Powdered PB
5.)15g PE Science Snickerdoodle Whey Protein
5.) Dash of Cinnamon and Sea Salt
Ricotta Stuffed Chicken Breast
Looking for a quick, tasty, and healthy option ? Try this recipe out. Great dinner for a date night or if you're trying to impress your significant other :) Text me if you want to fit this into your plan!
Protein Pop Tart
Ditch that pre packaged Poptart and make your own with 32g protein! Try out this recipe. Text me and we can fit it in to your meal plan!
Protein Pop Tart ( Josephs Lavash)
Here's a fun recipe for you guys. Main ingredient is the Josephs Lavash Wrap I have a lot of you guys eating for lunch. Text me and we can fit this into your plan.
Ingredients for the Protein Poptart!
- 1 Joseph's Lavash Bread
- 227g Plain Non Fat Greek Yogurt
- 8g Sugar Free Fat Free White Chocolate Pudding Mix (Can use Cheesecake mix)
- 2g Zero Calorie Sweetener of your choice
- (Optional Toppings)
High Protein Egg White Pizza